Folios Mini Chimera (43x65mm) Premium
$2.560
Folios Transparentes (Incoloros) (Etiqueta roja) 43×65 mm PREMIUM
6 disponibles
Pagá

en cuotas

con Mercado Pago
Leer más

¡Compra ahora y paga después en meses sin tarjeta!
100% online, sin bancos ni costo de mantenimiento
¿Cómo funciona?
Al pagar elegí

Mercado Pago

. Podrás ingresar con tu cuenta o crear una en pocos pasos.
Busca

Mercado Crédito

entre las opciones, selecciónalo y elegí en cuántas cuotas quieres pagar.
Pagá mes a mes tus cuotas como prefieras, desde la app de Mercado Pago.
Folios para cartas Mini Chimera (43x65mm) Premium (Pack x50 Unidades)

Otros folios del mismo tamaño:

Mini chimera standard:

125% Mas gruesos!

Los folios mini Chimera, diseñado y fabricados por expertos para adaptarse a todas tus cartas de 43×65 mm.

Popular para usar con:

Abyss (Ally & Loot Cards)
Abyss: Kraken (Small Cards)
Agents of SMERSH
Arkham Horror Board Game (Investigator Cards)
Arkham Horror: Black Goat
Arkham Horror: Dark Pharaoh
Arkham Horror: Dunwich
Arkham Horror: Innsmouth
Arkham Horror: King In Yellow
Arkham Horror: Kingsport Horror
Arkham Horror: Lurker at the Threshold
Arkham Horror: Miskatonic Horror
Arkham Horror: Total
Batman: Gotham City Chronicles
Batman: Gotham City Chronicles – Arkham Asylum Expansion
Batman: Gotham City Chronicles – Villain Campaign Pack
Batman: Gotham City Chronicles – Wayne Manor Expansion
Battlestar Galactica
Battlestar Galactica – Daybreak Expansion
Battlestar Galactica – Exodus Expansion
Battlestar Galactica – Pegasus Expansion
Black Gold
Black Sheep
Blood Bowl Upgrade Cards
Builders of Blankenburg (Small Cards)
Cadwallon: City of Thieves
Castles of Mad King Ludwig
Chainsaw Warrior
Chaos In The Old World
Chaos In The Old World: Chaos Cards
Chaos In The Old World: The Horned Rat Expansion
City of Horror
City of the Big Shoulders
Constantinopolis
Crisis 2020
Deadlands: The Battle for Slaughter Gulch
Divided Republic
Dungeon Petz
Dungeon Twister
DungeonQuest (Third Edition)
DungeonQuest Revised Edition
Dwarven Miner
El Caballero
Eternal Dynasty
Feelinks
For the Crown (First Edition)
For the Crown (First Edition) Expansion Kit 1: Cover of Night
Game of Thrones, A (Board Game
Gears of War: The Board Game
Greed Incorporated
Hare & Tortoise Waddington's Edition 1981
Healing Blade: Defenders of Soma (Small cards) (Very tight but mini euro don't fit the box)
Hoity Toity -small cards
Horus Heresy
Hunger Games: District 12 Strategy Game
Let's Make a Bus Route
Letnisko
Level 7 [Escape] Lord of Hellas (Small Cards)
Love Battle! High School
Merchant of Venus ( Second Edition)
Middle Earth Quest
Might & Magic Heroes
Nexus Ops (FFG)
NMBR 9
Nostra City
Nuclear Escalation
Nuclear Proliferation
Nuclear War
Peptide: A Protein Building Game (Small Cards)
Perdition's Mouth: Abyssal Rift (Small cards)
Pizzaro & Co.
Pocket Rockets
Race to the North Pole
Rex: Final Days of an Empire
Saga of the Northmen (Small cards)
Sky Traders ( Small Cards)
Sleuth (1971 3M Gamette ed.) small cards
Spurs: A Tale in the Old West (Small Cards)
Star Wars: X-Wing Miniatures Game – The Force Awakens Core Set
The Adventurers: The Pyramid of Horus Small Cards
The Fellowship of the Ring
Thebes (Queen Games 'Jenseits von Theben' German edition)
Thebes Queen Games German Edition
Thebes Queen Games Multilingual Edition (2012)
Timeline
Timeline Challenge
Timeline: 60 ans de télévision à la RTBF
Timeline: American History
Timeline: Americana
Timeline: British History
Timeline: Cannes & Cinema
Timeline: Cannes & Cinema
Timeline: Discoveries
Timeline: Diversity
Timeline: Events
Timeline: History of Russia
Timeline: Inventions
Timeline: Korean History
Timeline: Music & Cinema
Timeline: Polska
Timeline: Québec
Timeline: Sports et Loisirs
Timeline: Star Wars
Trains and Stations
Twilight Imperium (Fourth Edition)
Twilight Imperium 4th Edition
Valdora
Vampire: Prince of the City
Warhammer Fantasy Role Play
Warrior Knights
Warrior Knights – Crown and Glory
World of Warcraft: The Adventure Game Small Cards

Acerca de estas fundas de tarjetas:

Folios hechos a medida para cartas de tamaño: 43×65 mm
¡El mejor ajuste en la industria!
100% seguro para archivos
Libre de ácido
Sin PVC
Polipropileno transparente

Otros folios de la familia mayday

English description:

Mini Chimera Card Sleeves

Expertly crafted and designed to protect all of your cards sized 43x65mm.

Popular for use with:

Twilight Imperium™ 4th Edition
Wings of Glory™
Arkham Horror™
Middle Earth Quest™
Runebound™
Many more!

About these card sleeves:

Custom crafted for cards sized: 43x65mm
Best fit in the industry!
100% Archival Safe
Acid-Free
PVC-Free
Clear Polypropylene

Many games! Check the list HERE.

PREMIUM VS STANDARD PROTECTION

Premium Protection

Thickness: 90 microns.
Protection level: Indestructible!
Great for the serious collector or gaming enthusiast with serious protection in mind.

Standard Protection

Thickness: 40 microns.
Protection level: Can't touch this!
Perfect for the casual budget-minded gamer, or even for the serious gamer who prefers a slightly thinner sleeve.

Bargain "Almost a Penny" Protection

Thickness: 30 micron
Protection level: Solid
Good for the casual gamer on a tight budget for games that don't see as much play.
| | |
| --- | --- |
| Peso | 0,030 kg |
| Dimensiones | 7 × 1 × 4 cm |
| Premium | Espesor de 90 micrones |
| Pack x50 | Pack de 50 unidades |
| Transparente | Folio transparente incoloro |
| Rojo | Etiqueta rojo |
Solo los usuarios registrados que hayan comprado este producto pueden hacer una valoración.
---
Productos relacionados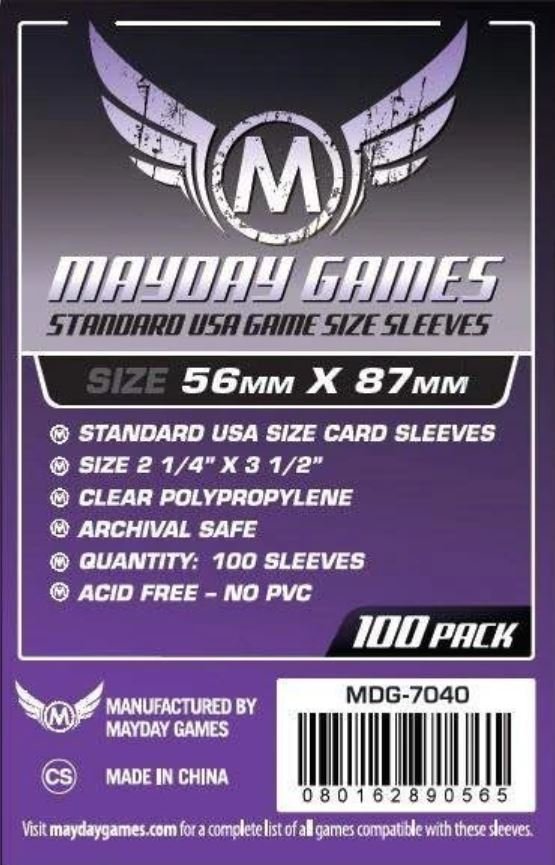 Folios USA (56x87mm) Estandar
$

3.511
Folios para cartas (56x87mm) STANDARD (PACK x100 Unidades) ¡Estos folios para cartas diseñadas por expertos se ajustan ...