Folios Magnum (80X120mm) Premium
$3.190
Folios Transparentes (Incoloros) (Etiqueta marron) 80×120 mm PREMIUM
Sin existencias
Folios para cartas Magnum (80x120mm) Premium (Pack x50 Unidades)

Otros folios magnum:

Magnum (80x120mm) standard

Folios Magnum Gold Ultra-Fit: ¡para Dixit y más!

¡Tus cartas de Dixit ™ encajarán perfectamente en estos folios!

Popular para usar con:

Dixit ™

y muchos más:

ARGH
Battleship Galaxies: The Saturn Offensive Game Set
Beasty Bar
Beasty Bar: New Beasts in Town
Big Trouble in Little China: The Game
Big Trouble in Little China: The Game – Deluxe Edition
Black & White
Blocky Mountains
Blocky Mountains: The Rock Slide
Bloodborne: The Card Game (Large cards)
Bright Future (Large Cards)
Capes & Cowls: The Superhero Board Game
Catan: Starfarers
Catan: Starfarers – Kundschafter der Sterne
Court of the Dead: Mourners Call
Crisis
Dale of Merchants Collection
Detective Club
Dixit
Dixit Odyssey
Dixit: Journey
Dixit2
Doctor Who: Time of the Daleks
Doctor Who: Time of the Daleks (Time Anomaly Cards)
Dragonmaster
Dreamwell
Duel of Ages II
Dungeon Rush
Dwarven Miner
Embers of Memory: A Throne of Glass Game
Escape Tales: The Awakening
Europe Divided
Fauna
Feelinks
Final Touch
Flash Point: Fire & Rescue
Flash Point: Fire & Rescue Tragic Events (large cards)
Fleet
Fleet + expansion
Fleet: Arctic Bounty
Fog of Love (Large Cards)
Funkenschlag
Gamer Over! A Game Fair Murder Mystery
God of War: The Card Game
Greenville 1989
Hanamikoji (Large Cards)
Hellapagos: They're No Longer Alone
Hero Realms: The Ruin of Thandar Campaign Deck (Large)
Immortal 8
In the Hall of the Mountain King
In the Hall of the Mountain King: Champions
Inis
Istanbul: The Dice Game
Kick-Ass: The Board Game
Kingdom of Middag
Lap Dance (Large Cards)
Legends of Andor: The Last Hope
London (Second Ed.) Borough Cards
Love Letter (Pegasus Spiele German )
Major General: Duel of Time
Mascarade
Mascarade Expansion
Mined Out! (Player Cards)
Mysterium (Large Cards)
Mythe
Nefarious
New Era
NINE
On Tour
On Tour (Second Edition)
Orléans Stories
Paranormal Detectives
Path of Light and Shadow
Planet Steam (LudoArt edition, Heidelberger Spieleverlag edition)
Port Royal: Just One More Contract (also Ein Auftrag geht noch)
Project: ELITE – Adrenaline (Large Cards)
Project: ELITE (Large Cards)
Raccoon Tycoon
Sagrada (Square cards)
Shadows in Kyoto
Shadows over the Empire
Small Star Empires: Fate of the Galaxy
Small Star Empires: The Galactic Divide
Star Realms: Frontiers
Stowaway 52
Strife: Legacy of the Eternals Cube Factory
Tainted Grail: Age of Legends
Tainted Grail: The Fall of Avalon
Tainted Grail: The Fall of Avalon – Red Death Expansion
Tainted Grail: The Last Knight
Tajemnicze Domostwo (Large Cards)
The Artemis Project
The Lost Expedition
The Lost Expedition
The Rise of Queensdale
The Sheep Race
Tides of Madness
Tides of Time
Trekking the National Parks: Second Edition
Trekking the World
Ultimate Warriorz
Video Vortex
Warhammer Quest: Silver Tower (Large cards)
Watson & Holmes: From the Diaries of 221B
When I Dream
When I Dream: Bonus Cards
Whoosh: Bounty Hunters
Witkacy
World of Mythology (Large Cards)

Folios hechos a medida para tarjetas de tamaño: 80×120 mm.

English description:

Magnum Gold Ultra-Fit Sleeves: for Dixit and more!

Your Dixit™ cards will fit perfectly in these sleeves!

Popular for use with:

Dixit™ and dixi
Many others
About these card sleeves:

Custom crafted for cards sized: 80x120mm
Best fit in the industry!
100% Archival Safe
Acid-Free
PVC-Free
Clear Polypropylene
(These sleeves were manufactured as an extremely limited test run, so once they are gone, they may be gone for good! Very specialized size.

Many games! Check the list HERE.
| | |
| --- | --- |
| Peso | 0,030 kg |
| Dimensiones | 8 × 1 × 5 cm |
| Premium | Espesor de 90 micrones |
| Pack x50 | Pack de 50 unidades |
| Transparente | Folio transparente incoloro |
| Marron | Etiqueta marron |
Solo los usuarios registrados que hayan comprado este producto pueden hacer una valoración.
---
You may also like…
Productos relacionados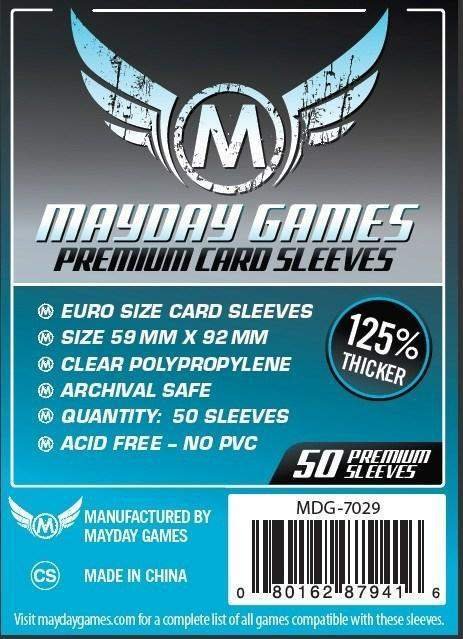 Folios Euro (59x92mm) Premium
$

3.395
Folios para cartas euro (59x92mm) PREMIUM (PACK x50 Unidades) Estos folios están diseñado y fabricado por expertos para ...